Bacteria, fungus, and yeast are not fun words. Not to you or your pet.
An ear infection doesn't only affect humans, it affects dogs and cats too.
It's hard to tell when your pet has an ear infection because they can't speak, as we all know. Ear infections can be painful to them. Naturally, they just shake off the excess water but sometimes water can be trapped in there.
There are ways to prevent ear infections from happening. Just always make sure their ears are dry after they've been in water. You can dry their ears by cotton balls, a hairdryer (on low, making sure you move it constantly so that you won't burn your pet), or a Q-tip.
Of course, ear infections aren't only caused by water, they are also caused by a number of other things. Buy the Miracle Cure Ear Solution to be 100% sure that there will be no ear infections.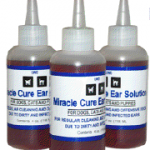 The Miracle Cure Ear Solution, by U-Wash Doggie, helps cure the ear infection. It also helps prevent the infection from coming back. You will have the problem solved completely within about two weeks.
"Prevent ear problems; an ounce of prevention is worth a pound of cure."
U-WASH DOGGIE: 24144 LYONS AVE Newhall & 23013 SOLEDAD CANYON RD Saugus | . | WWW.UWASHDOGGIE.COM