Miracle Cure Ear Cleaning Solution
Miracle Cure Ear Cleaning Solution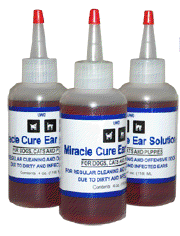 Get the Miracle Cure Today
Finally get relief from Smelly Ear Syndrome and restore your dog's ear health!
Miracle Cure Ear Cleaning Solution for Dogs
Safely and Easily Removes the Discharge Caused by Smelly Ear Syndrome
Is there a strong odor coming from your dog's ears…? Perhaps it is accompanied with a dark brown discharge or redness & irritation that is making your dog paw at the ear constantly…? 
Once these ear infections gain a foothold, it's very difficult to treat successfully. If your veterinarian's treatment plan hasn't been working for you and your pet, then it is time for the "Miracle Cure Ear Cleaning Solution"!
Dog and cat ear infections are due to many reasons that include bacterial yeast infections, ear mite infestation, allergies, fungal growth and the MOST obvious, lack of proper care or improper dog ear hygiene.
Don't worry, you're not alone. There are over 60,000 pet insurance claims each year just for ear infections — and thousands more are paid out-of-pocket.
Infections of the outer ear are the most common and easiest to identify in dogs since swollen, crusty ears, redness, offensive odor and any discharge indicates an ear infection.
All dog breeds could develop ear infections, especially dogs with long and floppy ears. This is because long ears tend to trap moisture within the ear canal due to poor air circulation.
You can prevent ear infections in cats and dogs by engaging in good home care, cleaning your pet's ears regularly with Miracle Cure Ear Cleaning Solution.
It works! Here are just a few testimonials from our hundreds of happy customers — 
No more smelly dog ears and smelly house, yes, my house used to smell like my dog's ears and I did not notice, we were accustomed to the smell!
Dogs are back in the house, the ear smelled was so bad they use to be always in the garage, Miracle Cure Ear Solution, the best remedy to make your dogs part of the family again in the house.
Highly recommend this product, I have two Springers with the same ear problem. They both are pool dogs and I treat them with Miracle Cure Ear Solution, no more ear problems.
My Cocker Spaniel had infected ears for years. The Miracle Cure was recommended by a friend I meet at the dog park, he has the same type of dogs, I'll be using this solution for the rest of my dog's life, I have told my friends about this solution and I know some of them are using it. Thank you Miracle Cure Ear Solution!
In four days the ear smell was gone thanks to Miracle cure, we'll keep buying it.
Using the ear solution for the last 5 years, no more ear infections with my Irish Setters, Thank you.
It works, works, works! Just follow directions.
Our experience has been that pets with an ear infection, if given this treatment daily, will show improvement within a few days. You will have the problem solved completely within about two weeks. Prevent ear problems; an ounce of prevention is worth a pound of cure.
When you see the ear infection is in remission (in about 2 weeks), then you can go on a maintenance program. Clean your dog's ears once every week with Miracle Cure Ear Cleaning Solution to help prevent your dog from a recurring ear infection. Avoid re-lapsing; never discontinue the use of the Miracle Cure Ear Cleaning Solution. Do not use this product if you can see sores or open wounds inside the ear canal. Consult your veterinarian.
Not Just for Dogs - Cats and Horses Find Relief too!
Many of our customers don't have just one pet… Miracle Cure Ear Cleaning solution has worked for every one of their dogs regardless of the breed. 
Not only that but they have used it on their cats and horses for equally amazing and effective results! 
Use Miracle Cure Ear Cleaning Solution on all your furry friends and restore their ears to perfect health. Order yours today! 
Directions: Apply 10-12 drops to both ear canals and massage well behind the ear. Repeat treatment one time daily for seven to ten days only as directed. Then continue the use of Miracle Ear Solution once a week to promote good healthy ears. For external use only. Avoid contact with eyes, if in eyes, flush with plenty of water. Discontinue use if irritation develops. Keep out of reach of children. Do not use on open wounds. Miracle Ear Solution contains Alcohol, vinegar, and crystalline acid, antiseptic with povidone-iodine.
ONE BOTTLE $29 ~ FREE SHIPPING INCLUDED TO THE CONTINENTAL U.S.
Francisco Gamero founder and owner of U-Wash Doggie®, has been dealing with people for many years and has achieved success by building relationships with people and by learning how to motivate them. He lives and has been doing business in SCV since 1977 and feels a strong responsibility to the local Santa Clarita community. He can be reached at the Newhall location.
Andres Gamero has grown up in the business and manages all aspects of day-to-day operations and grooming services for over 27 years. He can be reached at the Saugus location. Both he and his father are actively involved in the latest techniques and industry trends for advanced pet grooming. They have attended trade shows and studied in Los Angeles, New York and elsewhere to insure Santa Clarita dog owners the best possible care when it comes to your pets.