The facilities are equipped with bathtubs that are waist high, as opposed to most residential bath tubs that come only to the knees. The tubs are large to provide room for animals of all sizes. Easy to use ladders are available for large pets to walk up into the bath tub – no more lifting and hurting your back! There are also U-Wash Doggie® attendants available to help customers who need assistance.
The facilities are equipped so that the pets are secured at all times for their health and safety. A safety line is available to secure your pet to the tub so there is no risk of jumping out and hurting themselves, you or other pets. Also available are long water hoses to reach all areas of the pet with ease. The water is kept at prescribed temperatures to soothe all pets. When the bath is completed, a specially designed pet blow dryer is provided to give the pet a professionally groomed look.
You Supply the Pet, we supply everything else!
Shampoo
Towels
Professional Pet Dryer
Brush
Comb
Cologne
Apron
And all the tools you need to do an outstanding job!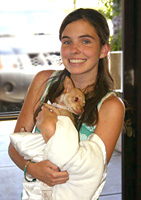 Wash Your Dog or Cat at U-Wash Doggie® and get all the tools and equipment you need, with no cleanup, no clogged drains, and no more tired backs!
You Can Also Do…
Medicated Baths
Flea Dips
Prescription Baths
Flea & Tick Shampoo
and more!
Visit our Saugus location or Newhall location today.